❮
❯
---
Pickering's Triangle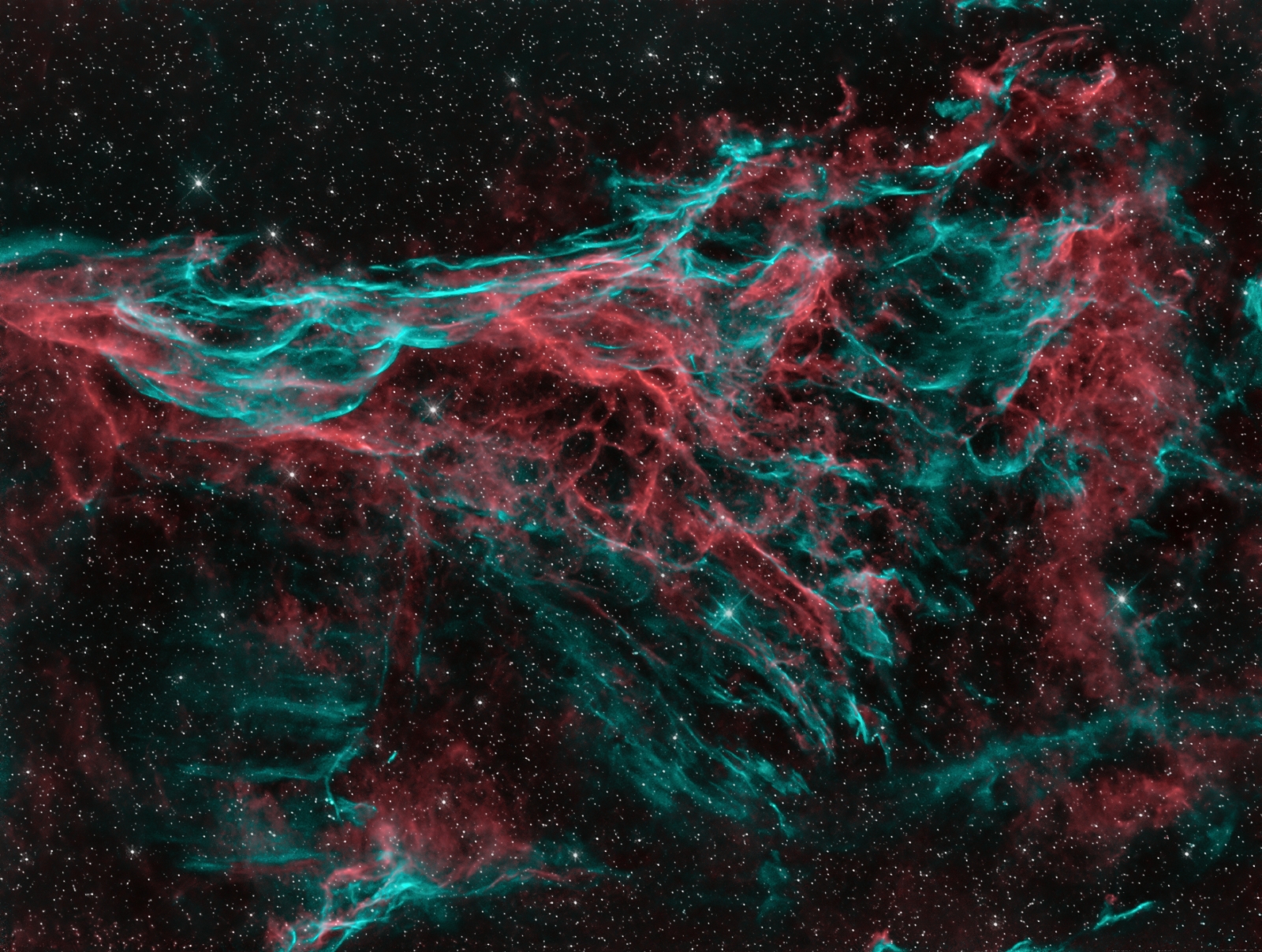 Move your mouse over the image above (on smartphones or tablets: touch it) to get a version with stars removed.
In the image above, north is to the right and east is up.
Pickering's Triangle is part of the northwestern section of the Veil Nebula, a large supernova remnant 1,400 to 2,600 light years distant in the constellation of Cygnus. Surprisingly, even though it is the brightest section of the Veil after the Eastern Veil and Western Veil, it is not in the NGC or IC catalogues. NGC 6979 and NGC 6974 are nearby smaller patches of emission nebulosity to the east. The filamentary segments represent an expanding shell or shock front of the supernova explosion which occured between 5,000 and 8,000 years ago. As visual observers can attest to with the use of [OIII] filters, Pickering's Triangle is strongly enriched in [OIII].
The nebula radiates all of its light in isolated emission lines. The most prominent lines in the visible spectral range are Hα, [OIII] and [SII], which were recorded exclusively to capture the image shown above. This is a "near-natural color" composition. The following mixture was used:
Red = Hα + 20% [SII]
Green = [OIII]
Blue = [OIII] + 15% Hα to compensate for missing Hβ

NGC 6960 - Firebird and Triangle, Wright-Newtonian photograph.


Pickering's Triangle in Hα, which is part of this image.


Pickering's Triangle in [OIII], which is part of this image.
---
Exposure Data
Instrument: 9.5" f/4.9 Newtonian
F/stop: 5.6
Exposure: Hα: 32 x 10 min, [OIII]: 36 x 10 min, [SII]: 21 x 10 min
Camera: ATIK 383L+
Date: September 29 - October 3, 2011 (3 nights)
Location: Floridsdorf, Vienna
Conditions: Visual limiting magnitude 4.5 mag, SQM-L sky brightness 19.1-19.2 mag/arcsec2, seeing 2.2-2.3" FWHM, no wind to moderate wind, low humidity, 10°C
Autoguider: Meade Pictor 216XT
Enhancement: Basic data reduction, registration and combination, background flattening, noise reduction, deconvolution, non-linearization, star-background separation, star size reduction, color synthesis using tone mapping, color saturation, re-adding of the stars
---
---