❮
❯
---
Sharpless 119 in Hα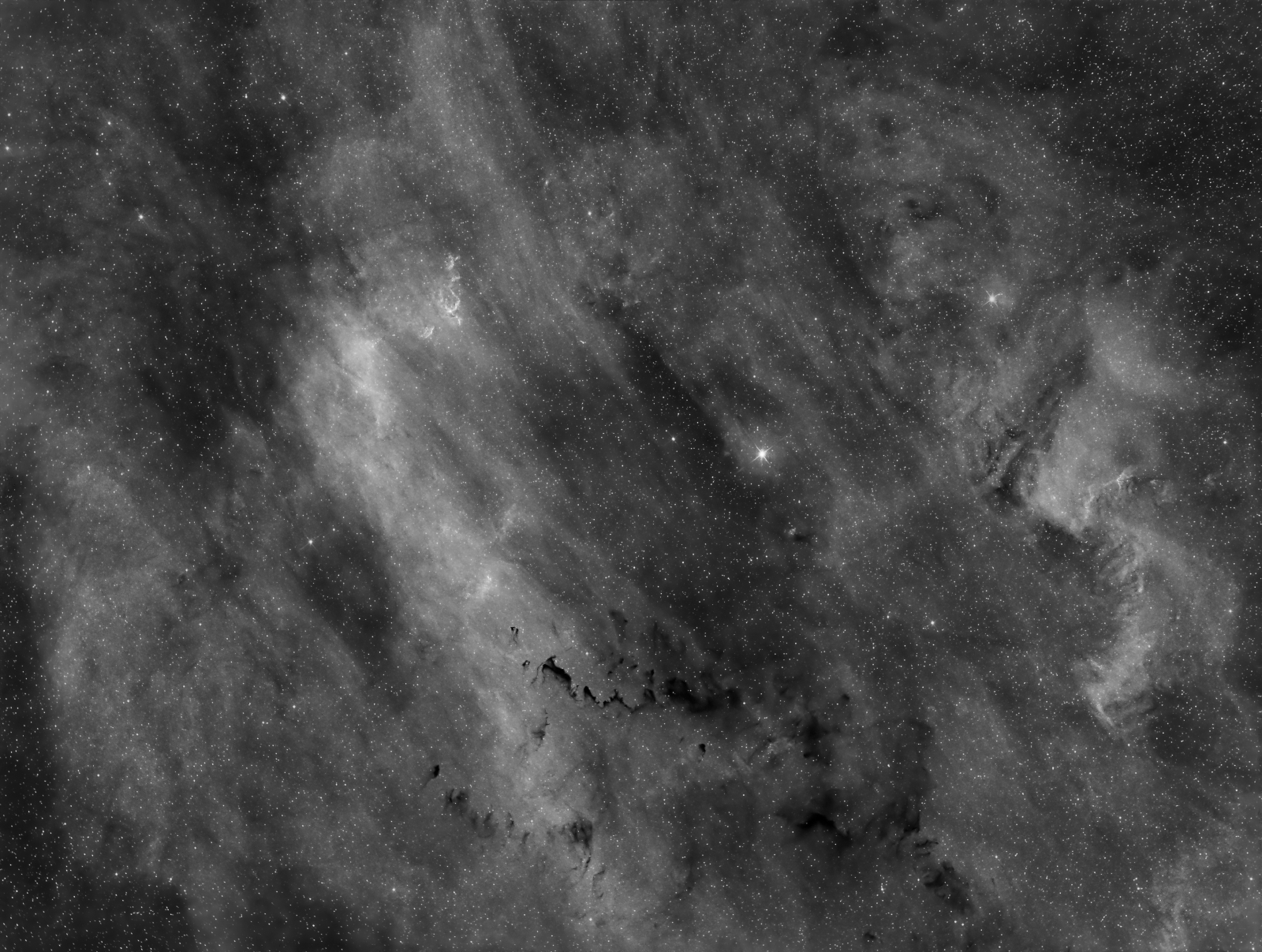 Sharpless 119 is a large complex of emission nebulosity in Cygnus, about 3 degrees east of the North American Nebula, located around the bright 5th-magnitude star 68 Cygni (right of the center of the image). It extends beyond the edges of this image. It shows up quite easily on well-exposed wide-angle images of the region as large red spot of emission nebulosity. S. Sharpless actually describes it as Type 3, "bright" in his famous "Catalogue of H II Regions" published in 1959. Interestingly, there are several dark lanes and dark globules overlaying the southern part of the nebula. The area is part of the Milky Way and is populated by numerous stars.
Sh2-119 can be observed visually with a rich-field telescope and a UHC filter.

Sharpless 119, which this image is part of.
---
Exposure Data
Instrument: 4.9" f/3.8 Wright-Newtonian
F/stop: 3.8
Exposure: 57 x 10 min
Camera: ATIK 383L+
Date: August 20 - 22, 2012; October 26 - 27, 2019 (3 nights)
Location: Floridsdorf, Vienna
Conditions: Visual limiting magnitude 4.0-4.5 mag, SQM-L sky brightness 18.9-19.2 mag/arcsec2, seeing ?, no wind, low to moderate humidity, 10-23°C
Autoguider: Lacerta MGEN
Enhancement: Basic data reduction, registration and combination, background flattening, noise reduction, deconvolution, non-linearization, stars-background separation, local contrast enhancement, star size reduction
---
---