❮
❯
---
NGC 7635 - Bubble Nebula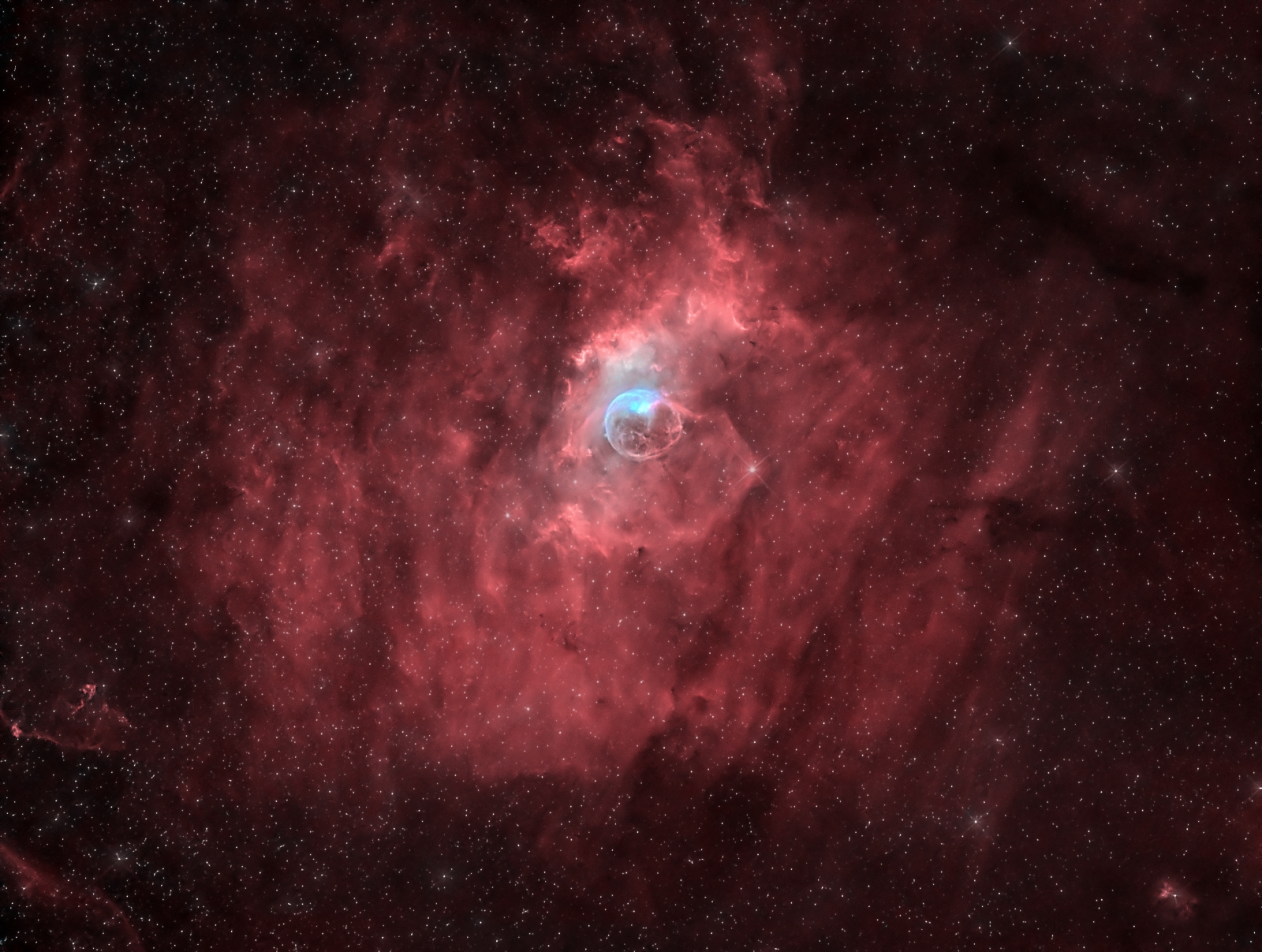 Move your mouse over the image above (on smartphones or tablets: touch it) to get a version with stars removed.
NGC 7635, also known as the Bubble Nebula, is an H II region emission nebula in the constellation Cassiopeia. In the sky, it lies close to the open star cluster Messier 52. Within the diffuse emission nebula there is a dark inclusion which appears as a faint and diffuse oval, about 3.5 x 3 arcminutes in size. This "bubble" is created by the stellar wind from the massive, hot and young 8.7 magnitude central star SAO 20575. The Bubble Nebula is difficult to see visually because of its low surface brightness. Its distance has been estimated to about 7,100 light-years.
Red = Hα
Green = [OIII]
Blue = [OIII] + 15% Hα to compensate for missing Hβ

M52 and NGC 7635 - Bubble Nebula Region, HαRGB image.


NGC 7635- Bubble Nebula in Hα, which is part of this image.

---
Exposure Data
Instrument: 9.5" f/4.8 Newtonian
F/stop: 4.7
Exposure: Hα: 17 x 10 min, [OIII]: 33 x 10 min
Camera: ZWO ASI294MC Pro, ATIK 383L+
Date: October 11-14, 2018 (3 nights)
Location: Floridsdorf, Vienna
Conditions: Visual limiting magnitude 4 mag, SQM-L sky brightness 19.0-19.3 mag/arcsec2, seeing 2.0"-2.4" FWHM, no wind, low to moderate humidity, 12°C-15°C
Autoguider: Lacerta MGEN
Enhancement: File selection and bias/dark/flat calibration, channel extraction for the color exposures, registration and combination, background flattening, noise reduction, deconvolution, non-linearization, star-background separation, local contrast enhancement, color synthesis using tone mapping, color correction, star size reduction, re-adding of the stars
---
---