❮
❯
---
IC 410 - Tadpole Nebula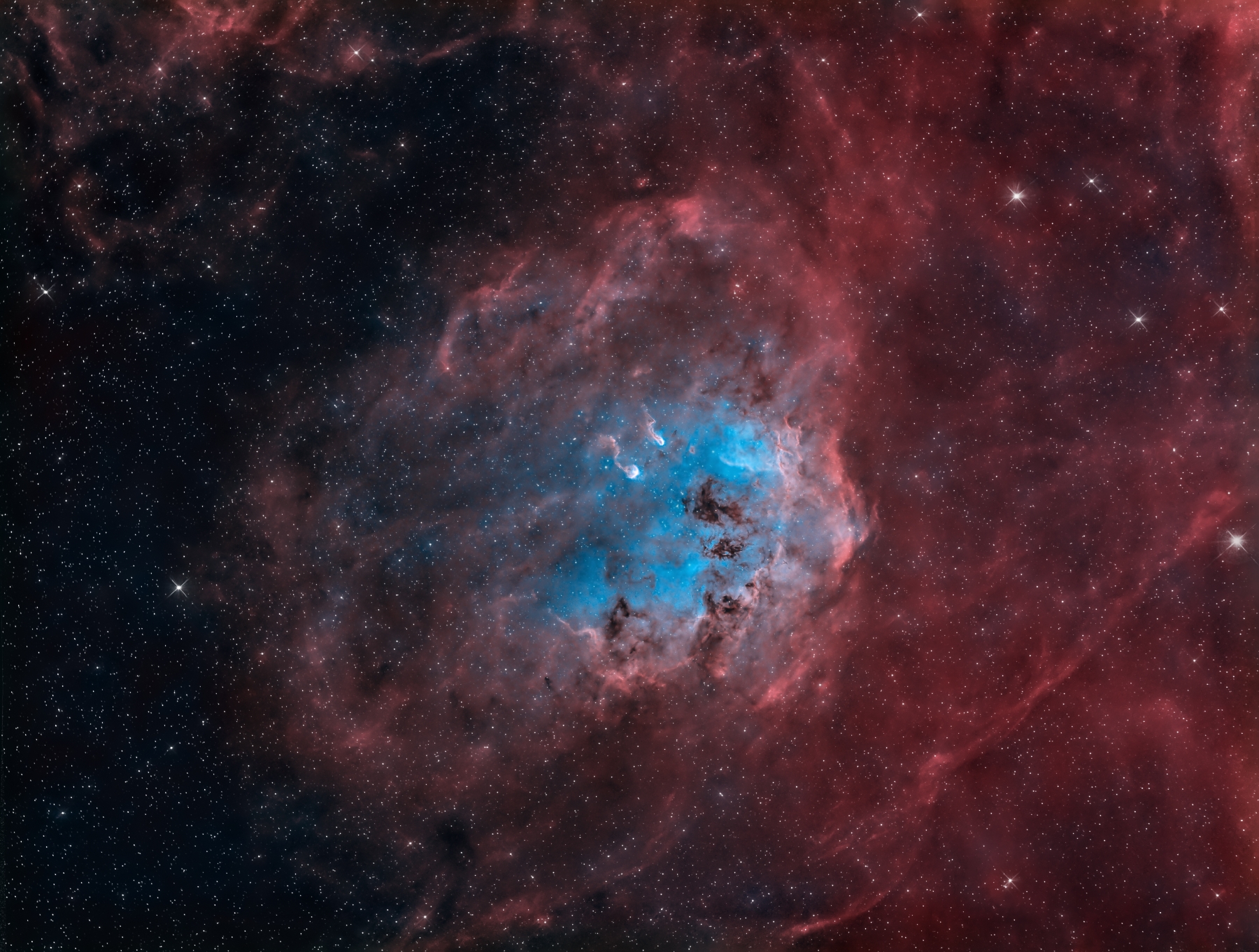 Move your mouse over the image above (on smartphones or tablets: touch it) to get a version with stars removed.
IC 410 is an emission nebula located in the nebula-rich constellation Auriga at an estimated distance of 10,000 light-years. Partly obscured by foreground dust, the nebula itself surrounds NGC 1893, a young galactic cluster of stars. Formed in the interstellar cloud about 4 million years ago, the hot, bright cluster stars energize the glowing gas. The intense radiation and stellar winds of the cluster have sculpted the two tadpole-shaped structures located in the upper left center of this image. Composed of denser cooler gas and dust, the tadpoles are about 10 light-years long and are likely sites of ongoing star formation. Their heads are outlined by bright edges of ionized gas while their tails trail away from the cluster's central region.
The nebula radiates all of its light in isolated emission lines. The most prominent lines in the visible spectral range are Hα and [OIII], which were recorded exclusively to capture the image shown above. This is a "near-natural color" composition. The following mixture was used:
Red = Hα
Green = [OIII]
Blue = [OIII] + 15% Hα to compensate for missing Hβ

IC 405 - Flaming Star Nebula, and IC 410, Wright-Newtonian photograph.


IC 410 - Tadpole Nebula in Hα, which is part of this image.
---
Exposure Data
Instrument: 4.9" f/3.8 Wright-Newtonian
F/stop: 3.8
Exposure: Hα: 59 x 10 min, [OIII]: 31 x 10 min
Camera: ZWO ASI1600MM
Date: December 29, 2019 - January 6, 2020 (5 nights including New Year's Eve)
Location: Floridsdorf, Vienna
Conditions: Visual limiting magnitude 4.0-4.5 mag, SQM-L sky brightness 18.4-19.3 mag/arcsec2, seeing ?, no wind to moderate wind, low to moderate humidity, -3 to +3°C
Autoguider: Lacerta MGEN
Enhancement: File selection and bias/dark/flat calibration, star alignment and image integration, noise reduction, deconvolution, non-linearization, star-background separation, local contrast enhancement, color synthesis using tone mapping, color correction, star size reduction, re-adding of the stars
---
---