❮
❯
---
IC 1318 - Butterfly Nebula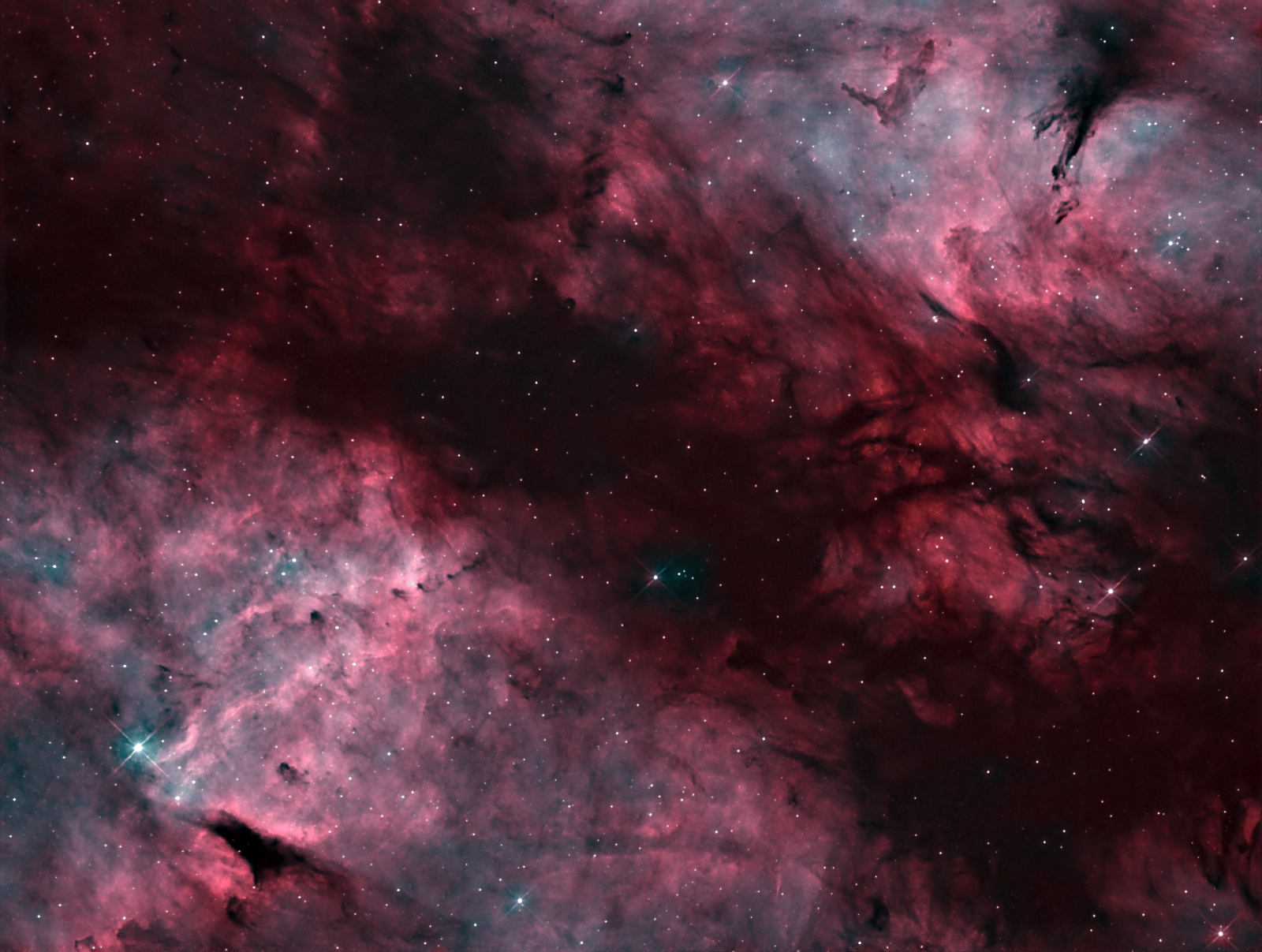 IC 1318, also known as Butterfly Nebula, is an emission nebula and HII region in the constellation Swan. The nebula is about 4900 light years away from Earth and has an extension of 100 light years. IC 1318 is divided into the three parts IC 1318 A (outside the image towards the north), IC 1318 B (upper right of the image) and IC 1318 C (lower left of the image). IC 1318 B and IC 1318 C are separated by the 20 light-years wide dark cloud LDN 88 (at the center).
The nebulosity emits all of its light in isolated emission lines. The most prominent of those are the Hα, [OIII] and [SII] lines, which were exclusively recorded to obtain the image shown above. This is a "natural color" composition mixed so that the resulting colors are close to the visible spectrum of the human eye. The following mixture was used:
Red = Hα + 24% [SII]
Green = [OIII]
Blue = [OIII] + 15% Hα to compensate for missing Hβ
This mixture is proposed by J-P Metsavainio and Richard Crisp.

γ Cygni Nebulosity, Wright-Newtonian narrow-band natural-color CCD-image.


IC 1318 - Butterfly Nebula in Hα, which is part of this image.
---
Exposure Data
Instrument: 9.5" f/4.9 Newtonian
F/stop: 5.6
Exposure: Hα: 21 x 10 min, [OIII]: 19 x 10 min, [SII]: 28 x 10 min
Camera: ATIK 383L+
Date: October 13-16, 2011 (3 nights)
Location: Floridsdorf, Vienna
Conditions: Visual limiting magnitude 4 mag, SQM-L sky brightness 18.3 mag/arcsec2, seeing 2.1" FWHM, no wind, moderate humidity, 1 - -3°C
Autoguider: Meade Pictor 216 XT, max. error: 1" (RA) / 1" (Dec)
Enhancement: Basic data reduction, registration and combination, noise reduction, deconvolution, non-linearization, local contract enhancement, star size reduction, color synthesis using tone mapping
Notes: The individual exposure were taken in 3 consecutive nights in October of 2011.
---
---