❮
❯
---
M13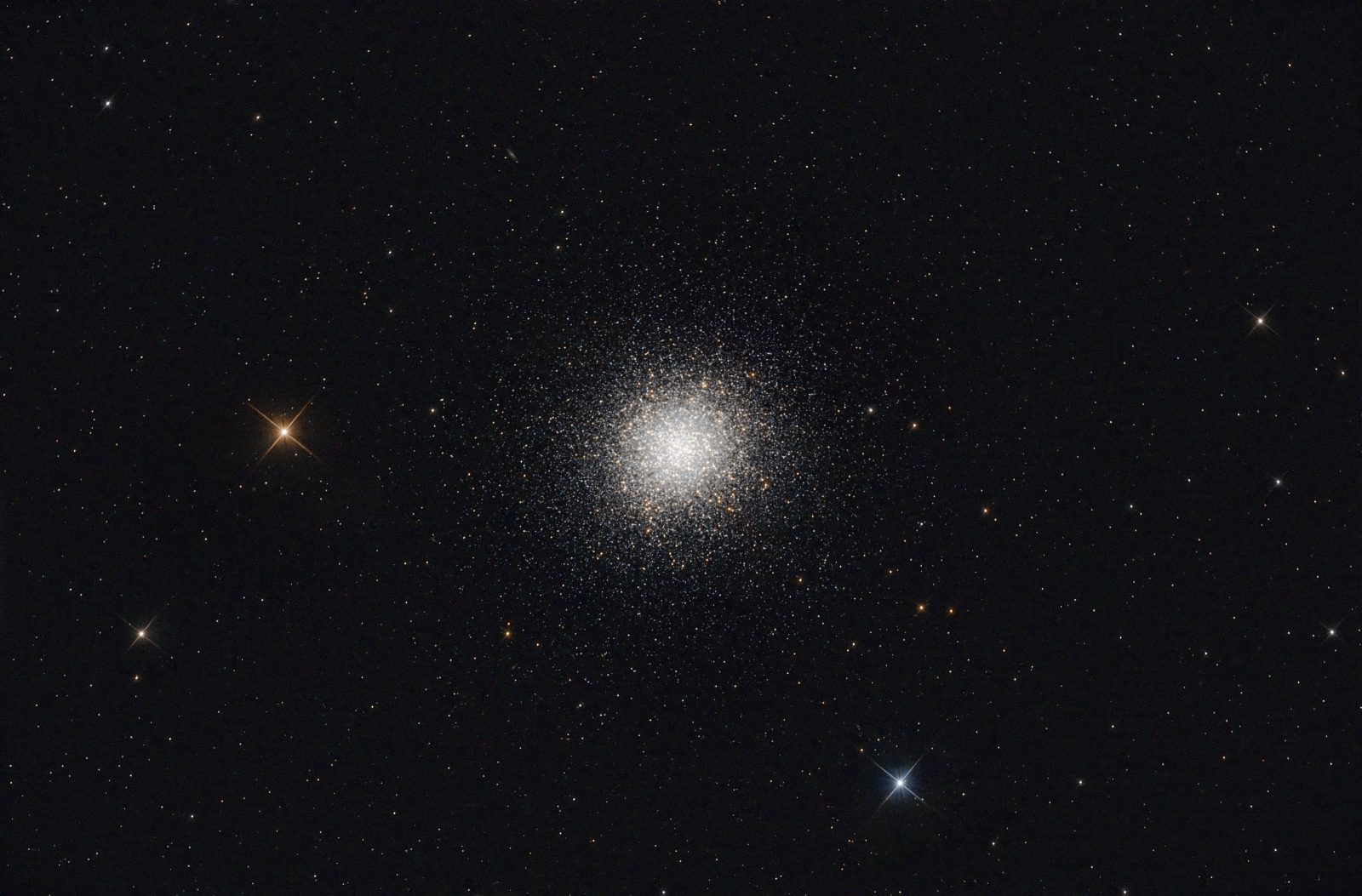 M13 (NGC 6205), the "Great Globular Cluster in Hercules", is the largest and maybe most often observed globular cluster in northern skies, one of the finest in the sky. For mid-northern latitudes, M13 has the advantage of passing nearly directly overhead. Its apparent magnitude is 5.8 mag, so it can be seen by naked eye as a fuzzy spot at a dark observation site. In the telescope, the outer parts of the cluster are easy to resolve into hundreds of individual stars, which is quite a sight. M13 is located at an approximate distance of 24.000 light years and has a linear diameter about 145 light years. About one million stars belong to this cluster.
---
Exposure Data
Instrument: 9.5" f/4.9 Newtonian
F/stop: 5.6
Exposure: 30 x 2 min
Camera: ALccd 6c Pro = QHY8pro
Offset/Gain/Temp: 117 / 51 / -19°C
Date: July 7, 2016
Exposure start: 22:35 MESZ
Location: Floridsdorf, Vienna
Conditions: Visual limiting magnitude 4.0 mag, SQM-L sky brightness 19.2 mag/arcsec2, seeing 1.7" FWHM, slight wind, low humidity, 18°C
Autoguider: Lacerta MGEN
Enhancement: File selection and bias/dark/flat calibration, star alignment and image integration, background correction, deconvolution, color correction, non-linearization, noise reduction, star size reduction, local contrast enhancement
---
Observing Hints (for M13, NGC 6207 and IC 4617):
M13 is bright enough to be seen with the naked eye by people with good eyesight and is no problem in any pair of binoculars. It looks like a fuzzy star forming a flat triangle with two 7 mag stars, this formation is an easy landmark in any finderscope on the west side of the keystone of Hercules in line between the stars Eta and Zeta, this is also easy to locate with a Telrad finder.
Small (smaller than 4") or cheap department-store telescopes show a fuzzy ball at magnifications of about 50x and not much more. Optics of better quality like a good 4" refractor resolve many of the brighter stars of the cluster at magnifications about 100x. With more aperture more magnification becomes possible. With increasing magnification the object becomes more extended and dimmer, but an experienced observer can glance hundreds of individual stars with averted vision. Even then there still remains a background of unresolved stars, even in big telescopes. Too much magnification will wipe out the impression that you are viewing a globular cluster. The cluster is a spectacular sight in big reflectors (greater than 8"). The outer region of M13 features a characteristic dark "Y"-shaped feature, which is not easy to find.
NGC 6207 is a small galaxy near M13 which is visible in a 6" telescope, but becomes interesting only in larger telescopes. Halfway between M13 and NGC 6207 there is another galaxy, IC 4617, which has the magnitude 15.5 mag and was only visible in an 18" telescope as a small streak of light hard at the limit.
IC 4617 can actually be seen in this image as a small streak of light above and to the left (NNE) of the cluster's center. NGC 6207 would be on top just outside the frame.
Another interesting globular in Hercules is M92, also quite a showpiece in big telescopes and also easy to locate in 7x50 finderscopes as fuzzy star.
---
---