---
NGC 7023 - Iris Nebula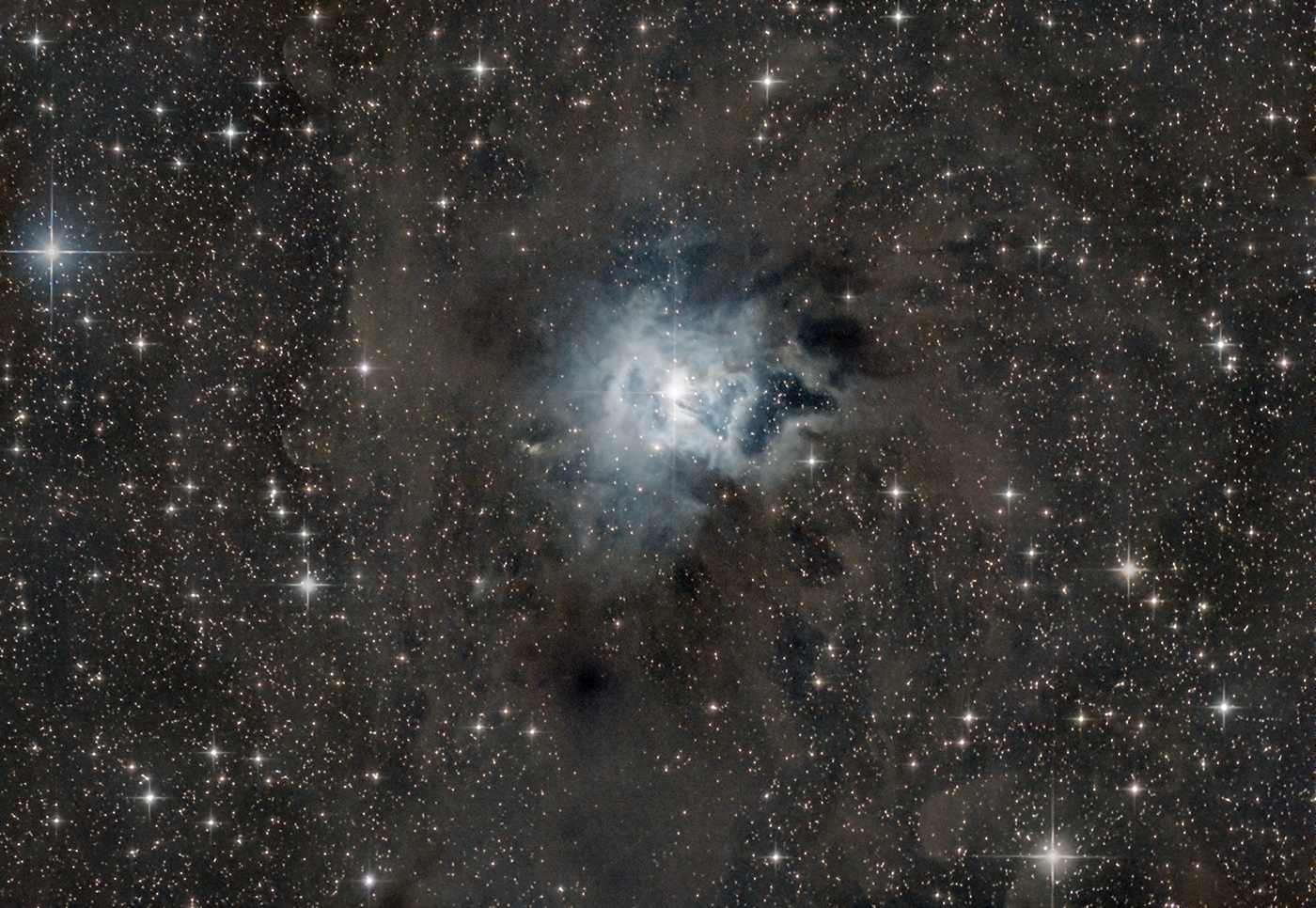 NGC 7023 is the designation of an open star cluster which is embedded in a reflection nebula located in the west central section of the constellation Cepheus. The nebula is known as "Iris Nebula" and is catalogued as LBN 487 and as number 4 in the Caldwell catalogue. Its dust particles reflect the light of the 7.1 mag star V 280 Cep. The distance to the nebula measures about 1300 light years and the diameter about 6 light years.

The Iris Nebula shines at an apparent magnitude of 6.8 and is theoretically bright enough to be visible with binoculars, but its large apparent size (18 arc minutes) and diffuse nature makes this a hard task.

NGC 7023 was discovered by Sir William Herschel in 1794.

NGC 7023 - Iris Nebula and Surrounding Area, telelens photograph.
---
Exposure Data
Instrument: 8" f/5 Newtonian
F/stop: 4.75
Exposure: 10 x 10 min
Camera: ZWO ASI294MC Pro
Offset/Gain/Temp: 30 / 0 / -24°C
Date: September 10, 2018
Exposure start: 02:51 MESZ
Location: Wallackhaus, Carinthia
Conditions: Visual limiting magnitude 6.3 mag, SQM-L sky brightness 21.4 mag/arcsec2, seeing 2.7" FWHM, temperature 1°C, no wind, no dew
Autoguider: Lacerta MGEN
Enhancement: Basic data reduction, registration and combination, background flattening, color calibration, noise reduction, deconvolution, non-linearization, local contract enhancement, star size reduction
Notes: Photo taken during my stay at the Großglockner-Hochalpenstraße in September 2018. My third try with the Alpha Tauri 2000/1000 Newtonian and the ZWO ASI camera. Deconvolution helped to decrease star sizes and improve the overall detail. Morning twilight ended this exposure series.
---
---